Autoresponder & Email-Filter in Rainloop
Last Updated: Thu, Mar 15, 2018 - 10:25 AM
The following examples describe the use of autoresponders / email filters in Rainloop.
For example, you can define any filter to move emails with a specific subject or sender to a specified folder, forward emails, create copies of emails, automatically reply with an email, and so on.
Notice
The filter rules defined here are stored on the server side. They work regardless of which email client you use to access your emails.
Adding a new Filter
First log in to the webmail interface and then click on the icon in the lower left corner of the screen 

.
On the next page, click on "Filters" in the left navigation bar, then click this button:

In the window that is now displayed, you can set up the desired filter.
After you have made the filter settings and closed the window, Rainloop will display the following message:

To follow the instruction, click on the button above:

Example: Automatic Vacation Message / Absence Message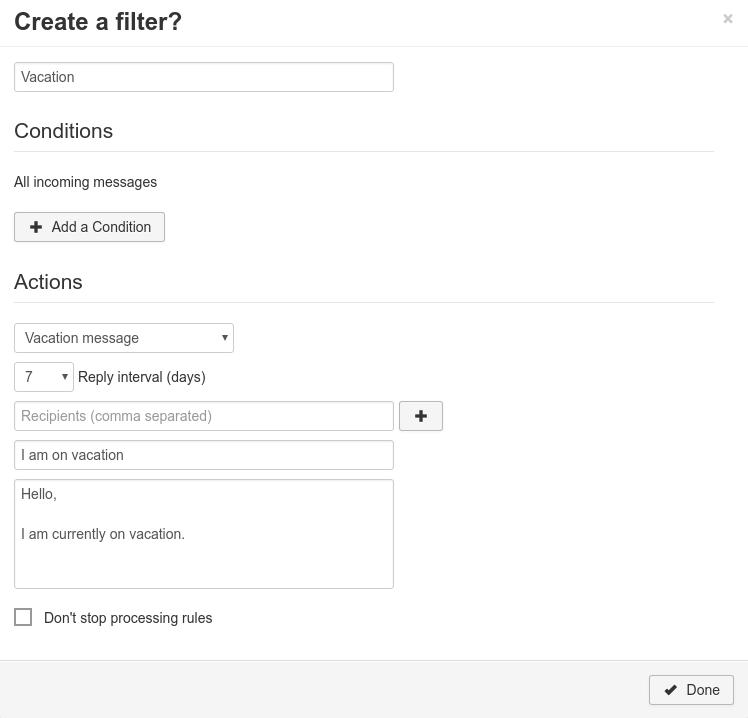 Example: Automatically Moving Spam Mails to Spam Folder